Özyeğin University, Çekmeköy Campus Nişantepe District, Orman Street, 34794 Çekmeköy - İSTANBUL
Phone : +90 (216) 564 90 00
Fax : +90 (216) 564 99 99
E-mail: info@ozyegin.edu.tr Learning the OzU Way: First-Year Programs
Learning the OzU Way: First-Year Programs
Learning the OzU Way: First-Year Programs
Özyeğin University supports the academic, cultural, social, and personal development of its students in line with its learner-centered vision. You can think of "OzU Way" as a set of values and actions we cherish as a community that you should understand and feel empowered to exercise as part of your success at OzU.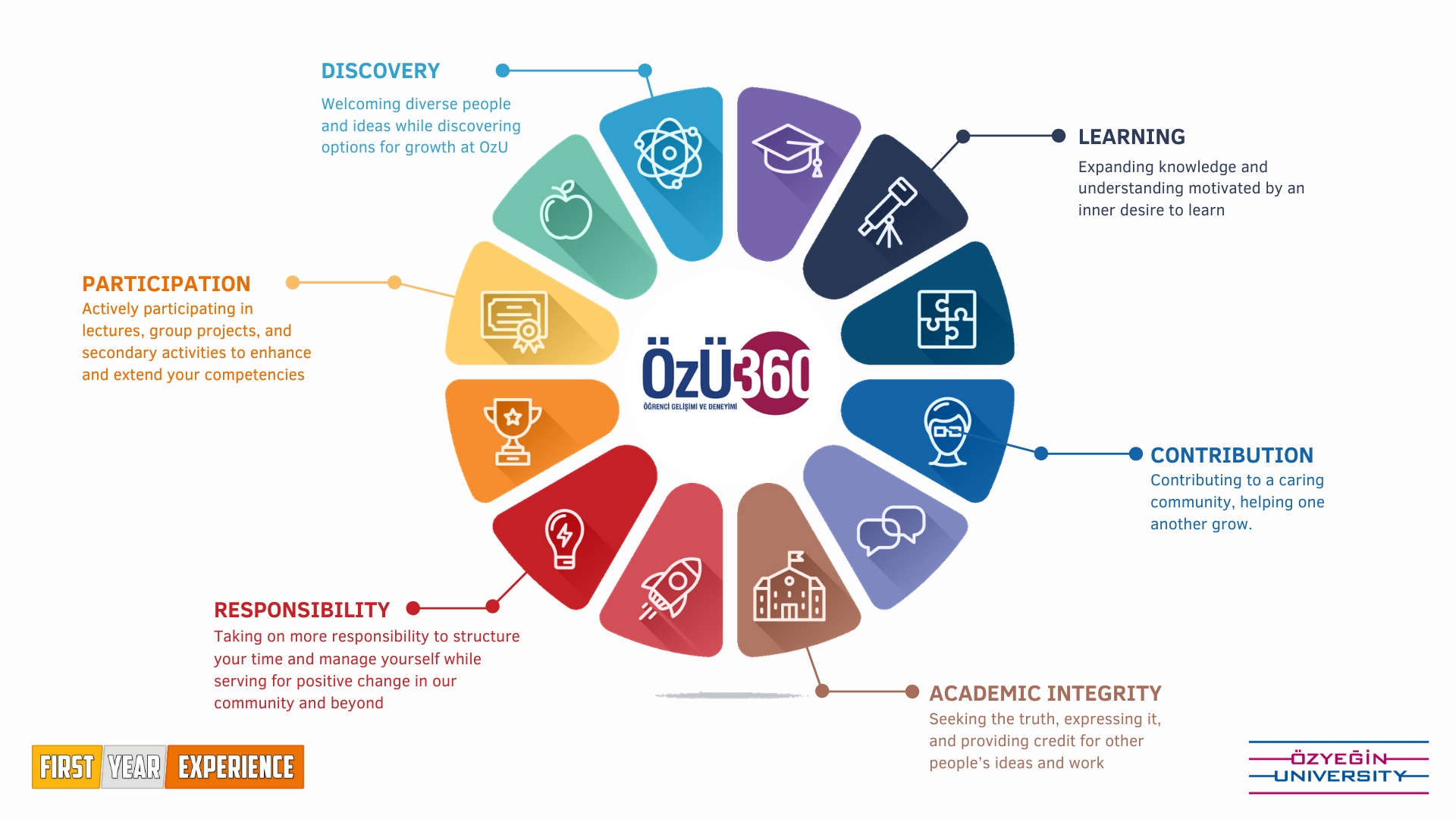 You are embarking upon a very exciting journey and we have special programs tailored for you to learn the OzU Way and make the best of your OzU experience. Peer Advisor Program, Orientation Program, and the SEC 101 – Introduction to University Course are programs designed specifically for you to explore how you will shape your unique experience here at OzU.
SEC 101 – INTRODUCTION to UNIVERSITY LIFE COURSE
SEC 101 is a 1-credit mandatory course for our new coming students that offers you an intellectually rich and fun start to university life. Through the seminars you attend and the activities you complete over this course, you will be able to access information about all the aspects of life at OzU, and contemplate on the core issues in arts, sciences, and technology. This course offers you a unique opportunity to explore your interests by introducing you to different academic, social, and cultural environments within the campus. You will find the opportunity to meet lecturers from and outside of your faculty and make friends from different disciplines and collaborate with them in social projects.
In order to complete SEC 101, you need to collect 20 points throughout your first year. Orientation is the first activity you should complete in SEC 101. You will get a minimum of 2 points for SEC 101 by attending the required events at the Orientation and a maximum of 5 points if you attend additional 6 elective seminars. It is essential that you do not miss your first meeting with your peer advisor before the Orientation so that you understand the structure of the course and benefit the most from the Orientation and SEC 101.
PEER ADVISING PROGRAM
The Peer Advising Program is an important part of the SEC 101 – Introduction to University course, and it is designed to help students make an easier transition to Özyeğin University in their first year on campus. Being a freshman has its challenges that can easily be overcome with the help of those who have had the same experiences and learned how things work. Our Peer Advisors are senior students who are trained to share their own experiences with you. You will be assigned a peer advisor from your faculty before the Orientation, and s/he will guide you throughout the Orientation and be there for you in your first year of studies.