Özyeğin University, Çekmeköy Campus Nişantepe District, Orman Street, 34794 Çekmeköy - İSTANBUL
Phone : +90 (216) 564 90 00
Fax : +90 (216) 564 99 99
E-mail: info@ozyegin.edu.tr Message from the Dean
Message from the Dean
Message from the Dean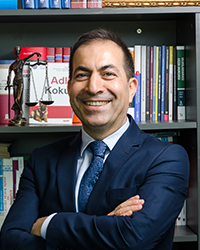 Prof. Dr. Dr. h. c. Yener ÜNVER
Dean of Faculty of Law
Dear Students and Esteemed Parents;
Özyeğin University Faculty of Law is a young faculty with its dynamic and dedicated faculty members founded with the Resolution No: 2011/1315 of the Council of Ministers as per Supplementary Article 30 of the Law No: 2809 dated 07.01.2011. Our expert faculty members and visiting professors feel proud, enthusiastic and thrilled to have founded a high-standard, multi-dimensional and diversified faculty of law. Our well-educated, young faculty members aim to prepare our students with both conventional law courses and a wide array of major contemporary sub-specialty areas, which are not offered in many of the other faculties of law.
Our students will not only be offered theoretical courses but will also further their discernment skills in particular as well as their theoretical and philosophical background in law. They will increase their knowledge and develop their abilities through interactive education. They will be highly qualified, , and self-confident legal professionals who are aware of their responsibilities, sensitive to and conscious of social legal problems, with a good command of the methods and principles of logic and discernment, who question everything with a scientific skepticism, search, develop new projects and learn the business with hands-on experience. Therefore during their period of study, our students will visit and get acquainted with nationally and internationally recognized institutions and organizations and contribute to their activities. They will observe cases at court houses and run social responsibility projects at prisons. They will pay visits to and obtain hands-on experience at the Institution of Forensic Medicine, the Supreme Council of Health, the Supreme Court of Appeals, the Constitutional Court, the Council of State and the Turkish Court of Accounts. They will be actively engaged in national scholarly activities conducted both by academics and by students. They will not only take courses where they argue fictional cases, but also will participate in scientific competitions with similar nature. As the Özyeğin University family, we also offer our students the opportunity to familiarize with the business life by working at the various departments of the university while they continue their studies, as in most of the developed countries. Thus our students will put their knowledge into practice and will be furnished with the necessary practical skills for their future careers.
The Faculty of Law students will obtain a high quality undergraduate education that will equip them for a wide array of professions in the legal realm, while they hone their foreign language proficiency and skills to perfection.
Through the Legal English, Legal German and Legal French courses offered by their undergraduate programs, our students will learn a second foreign language and will be able to conduct academic research and present their studies in congresses. They will be able to improve their foreign language skills,legal knowledgeand legalexperience by attending international seminars during their period of study.
By the same token, our students will not only be passive listeners but will play an active role to further their knowledge base and experience through both the seminars and certificate programs jointly held with the other universities and legal institutions in Turkey and academic events organized in collaborations with international faculties and institutions of law. Thus OzU Faculty of Law students will be able to prepare and present scholarly presentations and produce academic publications while they are still a student. We will prepare our students as not legal professionals solely with great memorization skills; on the contrary, they will be well-equipped graduates with a broad vision, who are well-aware of the increasingly developing world, who have internalized the contemporary law and who are able to compete with the legal professionals from developed countries.
As the study of law requires proficiency in a second foreign language, especially in German, for those legal professionals who plan an academic career or do business with the Continental European countries, we will ensure our students are proficient enough in a second foreign language, particularly in German, in addition to English. That's why we offer an important portion of our curriculum in a foreign language; and engage in international academic activities with other countries; and present our students international opportunities.
Our students will have constant access to their instructors and a wide array of resources from printed books to electronic databases and a rich non-legal collection offered by our well-structured law library providing students a comfortable study environment that suits both their needs and wishes with its group study rooms as well as quiet study rooms.
Through a large selection of electives and seminar and certificate programs in different domains, our graduates will have the chance to pursue alternative careers as executives, managers, scholars, or economists besides conventional legal professions. International faculty and students to be recruited through our large network of international connections, our faculty members, and Erasmus-Socrates programs to be promoted by our faculty will provide our students with a deep understanding of the increasingly developing world. Our students will be highly competent legal professionals, who know contemporary law and its execution, possess hands-on experience, have a good command of international and supranational, European and American law, and who are well-informed about the current sub-branches of law which have an imminent and immense impact on our country. We do not only aim our students to become good attorneys or judges or prosecutors. We also strive to prepare them as good scholars, members of the press, or executives.
In order to qualify for graduation, not only must students pass the mandatory and elective courses in their curricula, but also thay must intern for at least 40 business days as per the relevant directives, and complete at least 4 certification courses.
Our students are entrusted to us by their families and our society. As the esteemed parents of our students, you can rest assured that Özyeğin University is a serious, compassionate, fair, high quality and a high impact institution with a broad vision and a high sense of responsibility. We strive and aim to prepare our students, who will shape and manage our future, for their future lives and careers to the best we can. It is our main aim to cultivate them to perfection and take pride in their achievements. We would like to thank our students and their parents for trusting us and choosing our young and dynamic faculty. We would also like to highlight that we are well-aware of our legal, social and current responsibilities bestowed upon us by your choice.
I welcome our students on my behalf and on behalf of Özyeğin University family and our faculty members and I wish you success, health and happiness in your academic, professional and personal lives.