Özyeğin University, Çekmeköy Campus Nişantepe District, Orman Street, 34794 Çekmeköy - İSTANBUL
Phone : +90 (216) 564 90 00
Fax : +90 (216) 564 99 99
E-mail: info@ozyegin.edu.tr Application and Admission
Application and Admission
Application and Admission
Application and Admission Requirements
1. Degrees:
Applicants must be either graduate of or graduating from an undergraduate program in case of Thesis and Non-Thesis program applications; and an undergraduate or a master's program in case of applications for a Ph.D. program, respectively.
Among admitted applicants, those who are expected to graduate must successfully complete their current programs prior to the enrollment date in order to be able to enroll in the university.
For diplomas awarded by higher education institutions abroad, their education and degree must be deemed recognized by YÖK to those awarded by higher education institutions in Turkey. For candidates who apply to master's degree programs must submit their Bachelor's Degree, candidates who apply to doctorate programs with undergrad degrees must submit their Bachelor's Degree and candidates who apply to doctorate programs with grad degrees must submit their Master's Degree recognition letters. For candidates who are accepted to the program they are applying for and do not have a recognition document, the relevant application is made by the Student Services department of our university.
2. Entrance Exam Results for Postgraduate Education
It is mandatory to provide any of the exam results below. Candidates who apply to the programs for which ALES results are valid also submit GRE / GMAT results (if any). 
Note: Foreign students in Industrial, Mechanical, Electrical and Electronics, Civil, Computer Science Graduate programs and Physics, Mathematics, Artificial Intelligence, Data Science, Architecture Master's programs with thesis are exempt from the Graduate Education Entrance Exam. However, it is an advantage for students to present these documents if any.
* ALES condition is not required for the applications of the candidates who have obtained the Doctorate, Proficiency in Medicine, and Art degrees. Evaluation of these candidates will be based on 75 points for Architecture Master's with Thesis and City and Architecture's Master's Program with Thesis, and 55 points for other graduate programs, excluding non-thesis programs.
3. English Proficiency Exam Result Documents
Any of the following exam results must be provided. If deemed necessary, candidates may be subjected to the OZU English Proficiency exam (TRACE) for M.Sc. applications.
* Students who graduated from English-medium programs of higher education institutions are exempt from the English proficiency requirement provided that they graduated within two years of the date of enrollment in the University.
** Pursuant to article 6/3.d of UAK's (inter-university council) Directive on Determining the Equivalence of Foreign Language Exams, the condition of "if it is held in Turkey, it must be done only in the buildings belonging to the state university" is required.
*** Özü TRACE Exam is accepted only for graduate applications
***** It is compulsory for foreign students, except for the citizens of countries whose official language is Turkish and those who have graduated from an undergraduate program whose language of instruction is 100% Turkish.
4. Additional Conditions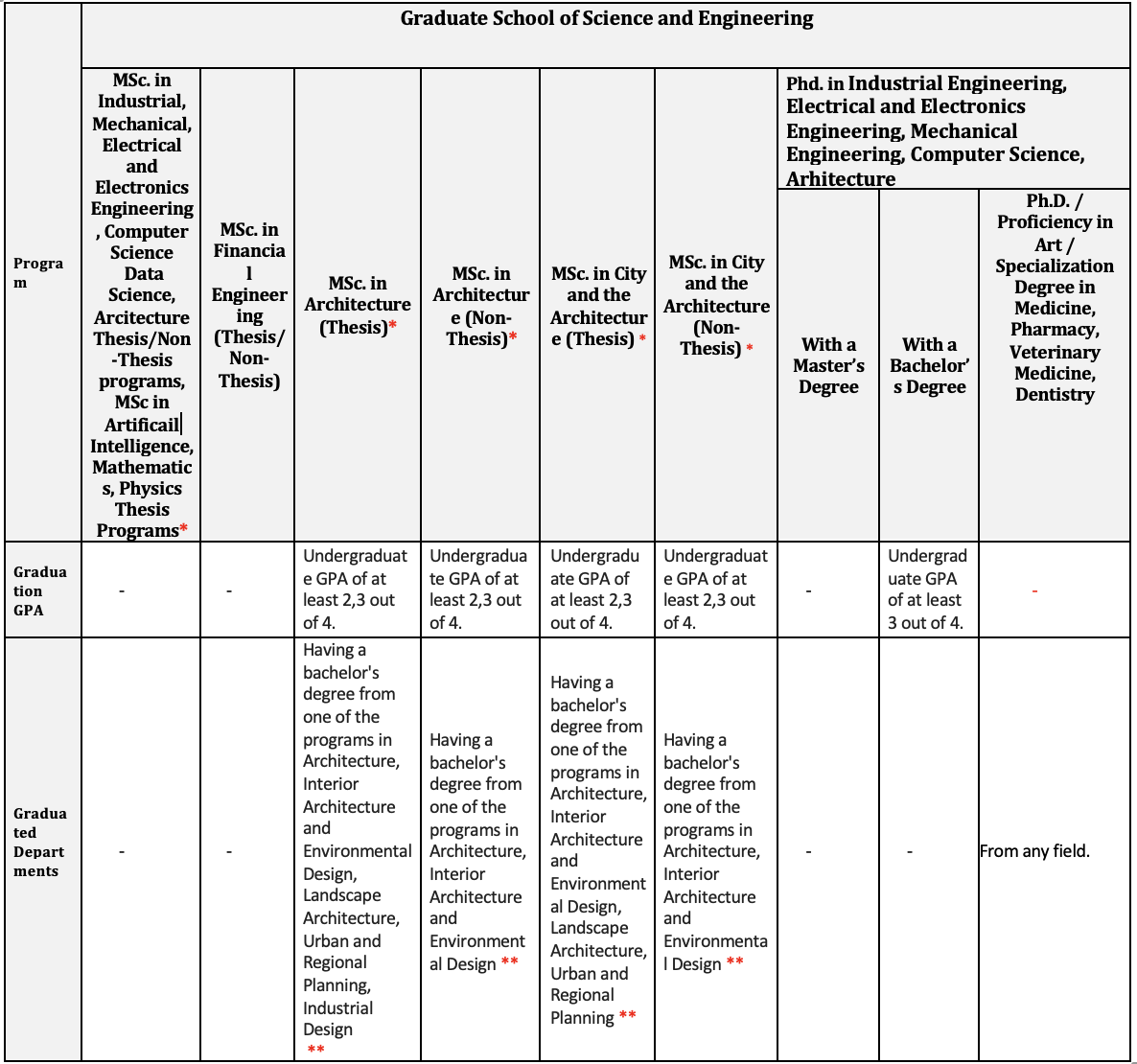 *Candidates who meet the conditions stated above must also be successful in the oral interview to be held
** Candidates applying from outside of these fields are required to succeed in the scientific preparation program defined in the architecture undergraduate program courses.
Application Form: The application form is filled in online completely and accurately.
Diploma: Copy of the diploma awarded by the latest higher education institutions graduated from. For diplomas awarded by higher education institutions abroad, a copy of the recognition letter issued by YÖK's International Equivalency Office is needed.
Transcript: Transcript showing all courses taken and grades achieved in all higher education institutions the applicant has so far attended or graduated from. If the transcript does not include any information about the grading system, separate documents must be provided for the grading system of the relevant institutions.
Graduate Programs Entrance Exam Score Report: One of the score reports listed (ALES, GRE) in the application requirements.
English Proficiency Examination Score Certificate: One of the documents listed (TOEFL-IBT, YDS, KPDS, ÜDS, e-YDS, YÖKDİL) in the application requirements.
Letter of Recommendation: Two letters of recommendation. Letters of recommendation must be obtained from the applicant's instructors and/or previous/current employer. Letters of recommendation obtained from family and friends are not acceptable.
Letter of Intent: Essays written in English about personal or professional goals in subjects provided by the Graduate School.
Supplementary Documents for International Students: Copy of the pages from the passport that have photograph and identity information.
Additional Information: If any, any information the applicant would like to provide (regarding the special circumstances in the applicant's academic background or a professional career)
Application, Evaluation, and Admissions
The university may request applicants to prove the accuracy of information and documents submitted during the application or the university may directly search for the accuracy of such information and documents. Should it be determined that there are inconsistencies in information and documents provided by prospective students, such students are denied admission even if they were previously admitted, and their enrollments are revoked, even if previously completed.
Application documents are kept by the university and under no circumstances are returned to applicants, irrelevant of the result of the evaluation.
As a result of preliminary evaluations conducted on the application information and documents, prospective students may be invited for a written examination or an interview. Failure to attend the interview or examination will disqualify the applicant from further consideration.
Applications are evaluated by an admission jury. Recommendations of the admission jury regarding the admission of applicants are concluded upon the resolution of the relevant Graduate School Executive Board.
If deems necessary, the Graduate School Executive Board may subject some of the admitted students to the Scientific Preparatory Program for one or two semesters to fully prepare them for their graduate programs. The resolution of the Graduate School Executive Board lists all courses that must be taken by the applicant.
The scope, application requirements, and quotas of scholarships granted to admitted students are determined by the Board of Trustees for each academic year. Scholarships are awarded upon the resolution of the relevant Graduate School Executive Board and the approval of the Rector.
The foreign students must get the annotated student visa which is obtained from Consulate Branches of Turkish Embassies or Consulate General located in their country or nearby, in order to make entry to Turkey. Students should apply for the visa with the Consulate Notification Letter, which is sent by the institute with the acceptance letter. For detailed information please click here.
For international prospective students that do not have a Recognition Letter which is obtainable from a Higher Education Council., the necessary procedures for the recognition, will be completed by our University.
Graduate School of Engineering and Science