Özyeğin University, Çekmeköy Campus Nişantepe District, Orman Street, 34794 Çekmeköy - İSTANBUL
Phone : +90 (216) 564 90 00
Fax : +90 (216) 564 99 99
E-mail: info@ozyegin.edu.tr Outgoing
Outgoing
Outgoing
Visit our YouTube channel to watch OzU Outgoing Exchange Students' Testimonial Videos:
 2022-2023 Academic Year Erasmus+ Outgoing Students' Testimonials
A. Bilhan Karaaslan
2020-2021 Spring, Erasmus+
Maastricht University, Netherlands
"It was surprising to see how a small city can offer wide experiences thanks to the people inside of it. Being together with people who are as ready as you to experience new things was a priceless opportunity Erasmus+ project provided."

Ahmet Taş
2020-2021 Fall, Global Exchange
University of Texas at Dallas, USA
"If you are thinking to join Global Exchange, keep your motivation whatever it takes. Yes, it's all about challenges, but this is the thing that will make you stronger."
Nagihan Özman
2019-2020 Fall, Erasmus+
Tilburg University, Netherlands
"My name is Nagihan Özman and I was an exchange student at Tilburg University, Netherlands within the scope of the Erasmus+ Study Mobility Programme in the 2019-2020 fall semester. My Erasmus adventure has a very special place in my life. It has been my dream since I started at Ozyegin University. I can describe my Erasmus+ experience as a process in which I rediscovered myself and realized what I can succeed. During my Erasmus+, I was more social, energetic, and productive than ever. I traveled to many cities and countries in Europe, made great friends from all over the world, and explored different cultures. As I learned and experienced more, my horizon was widened. Moreover, I had a lot of fun in the events of I*ESN Tilburg and our friends gathering. Also, I learned a lot from my professors and my friends at Tilburg University. On my way to the Netherlands, I was hoping that I would return as a different person 6 months later, and it happened. I turned back to Turkey as someone who is a more social and better English speaker and who has higher self-confidence and has great memories. I was lucky because both Ozyegin University and Tilburg university supported me from the beginning till the end. I experienced the best 6 months in my life ever during my Erasmus+ journey. What makes it special is that it was my first trip with my Spanish and Turkish friends all together. The best photo that represents my Erasmus days is a photo of me and my friends from a day full of good memories."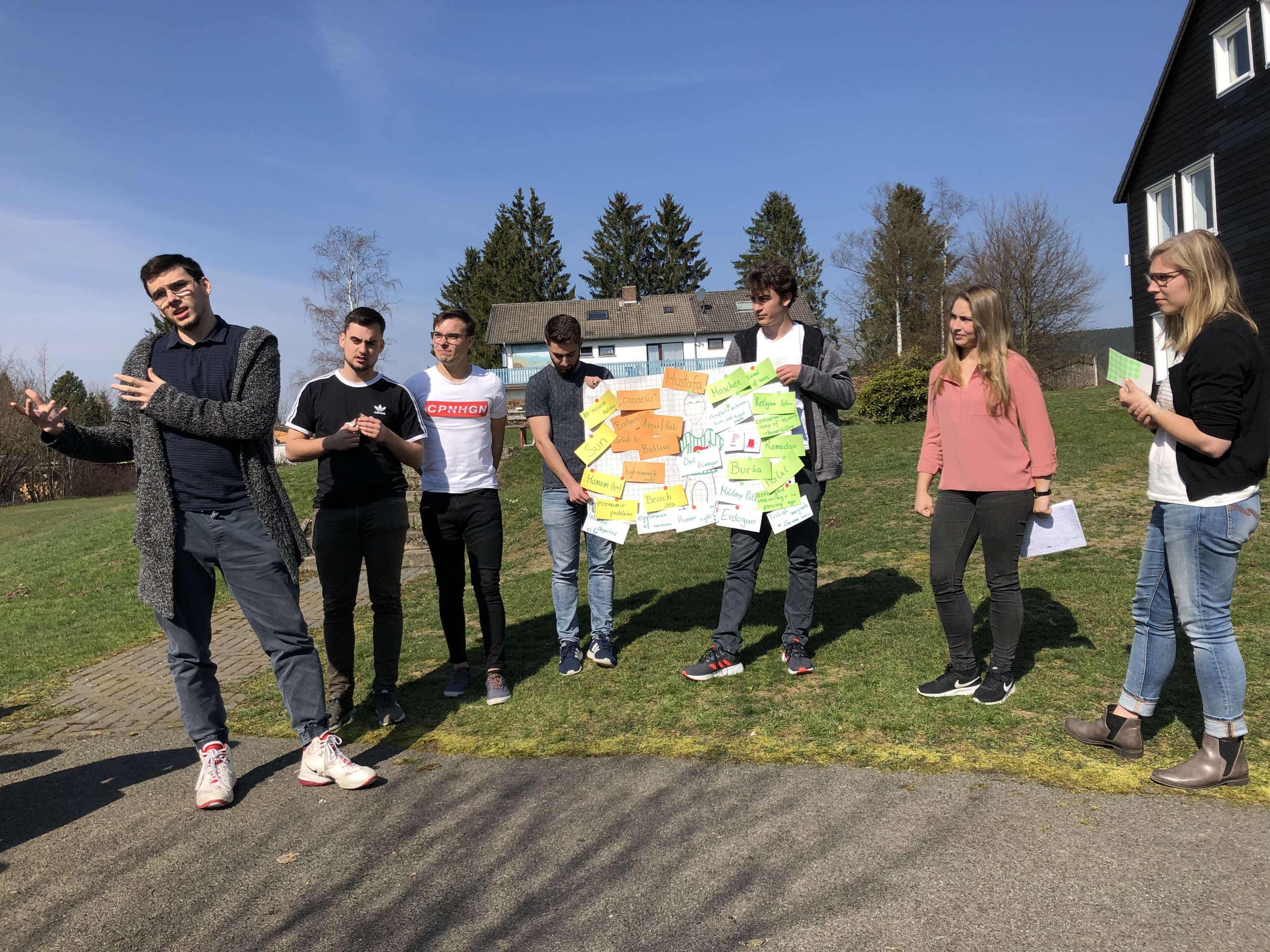 Berkin Çolpan
2018-2019 Spring, Erasmus+
Duale Hochschule Baden-Württemberg Mosbach, Germany
"I had an opportunity to spend a great semester at DHBW with 29 engineering students from 7 countries. It was a special international engineering program that was well designed with different social and cultural events, factory tours, and a trip to Hannover for one of the most important industry fairs. This picture was from outside of the hostel we stayed in Hannover for a trip in the first week of the semester, as the first activity of the orientation program, I was trying to explain different keywords on the poster which was prepared by 6 German students according to the most known things of Turkey and some stereotypes about Turkey. It was a spectacular experience to represent my country by breaking down stereotypes. I believe each student in this special program is still feeling the gains of the program as a game-changer in their life."
Berna Bolsoy
2018-2019 Fall, Erasmus+
Turku University of Applied Science, Finland
"Erasmus+ days... The days I recall as the milestone of my life. The days made me meet with my great hidden potential. The days lighting the fire of continuous exploring and learning inside me. Imagine that you are a person who hates uncertainty and does anything to avoid it. And then, you decide to study abroad for a couple of months and dive into uncertainty itself. Afterwards, all you need is to trust yourself and go with the flow. I exactly did these, spent 4 full months in Finland. Joined culture-sharing clubs, did outdoor activities, worked voluntarily in entrepreneurship society, run a project with a multinational team and presented to the company's CEO. This photo could be a nice snapshot of my Erasmus+ experience describing boundaries are only illusions in human's mind."

Ecem Ergün
2018-2019 Fall, Erasmus+
ESDES Lyon Business School, France
"If anyone asks me "If you have the chance to go back to your university life, which semester would it be?" Without hesitation, it would be the semester that I made amazing, long-lasting friendships all over the world; discovered the local streets in France and learned how to be Lyonnaise, tasted different traditional and famous foods, and even sometimes questioned why they are famous =), got full of pasta and pizza when I was in Milan, mesmerized by the view in Florence that I missed the bus to Bologna, had a boat trip in St. Tropez, woke up to a very cold and snowy but heartwarming morning in Montblanc, experiencing the panoramic view of Bordeaux from the very top of the city: on a rollercoaster, going to secret parties organized by the uni that you never know the venue and more countless memories with my sisters and my brothers in the international student club's event. I could never know this would be the best time of my life without giving it a chance. Cycling in the rain, having croissants very early in the morning, not understanding the French accent, not understanding French... and the Global Village Event that I was a part of. These were unforgettable experiences showing that how we became family in just 4 months. Now I know, I have a door in almost every country, I have friends who live so far away but just by me whenever I need. Sometimes it all begins by a hello and sometimes by saying YES."
Hüseyin Erkan Koç
2018-2019 Fall, Erasmus+
Lodz University of Technology, Poland
"Through the Erasmus+ Student Mobility Programme, I have studied in the architectural engineering program at the Technical University of Lodz in the winter semester of 18/19. The Erasmus experience was an amazing opportunity to foster openness to other cultures in a place like containing a marvelous mixture of nationalities and it made me feel like a global citizen. Afterward, living alone in unfamiliar territory was a big chance which taught me to be brave and trust myself more than ever. This experience was not only inspiring me for my own design style and skills but also had an impact on the perception of myself as an architect, a Turkish citizen, a young person, and so on through various environments, people and study practices. This eye-opening exchange programme also corroborated the idea of starting a master's degree abroad and resulted in an MSc degree at the Technical University of Dortmund, Germany."

Hazal Bozdağ
2017-2018, Spring, Erasmus+
University of Lodz, Poland
"I feel that I have new lenses to see and understand the world after my Erasmus experience in Poland and it was the time I have realized meeting new people and learning about their way of life makes me feel alive."

Sedat Onur Çakırlar
2010-2011 Spring, Erasmus
Pforzheim University, Germany 
"Erasmus is the meeting point of youth from all around the world. Take your place in that picture!"


Mine Özer
2011-2012 Fall, Erasmus
ISM, Litvanya
"I suggest everyone who wants to be a part of an international community in the future to be a part of Erasmus Exchange Program. It is definitely worth it!"


Dasa Stanimirovic
2012-2013 Fall, Erasmus
University of Bologna, Italy
"Take an exciting, adventurous journey to self-discovery, personal growth and a novel perspective on the world around you, form enriching, and life-long friendships in just a few minutes and accomplish in a matter of months what many have failed to attain in an entire lifetime."


İrem Demircioğlu
2012-2013 Fall, Erasmus
Pforzheim University,Germany
"If you already caught or about the catch the opportunity of being an Erasmus student, I suggest you go ahead with it. Erasmus exchange was one of the best decisions of my life. It is the right choice for you if you are interested in travelling, getting to know new people, and learning new languages just like me."


Jamila Humbatlı
2013-2014 Spring, Erasmus
Pforzheim University, Germany
"It was the best time of my life!!! I will always remember my exchange semester in Pfrozheim, Germany as it has brought so many amazing things to my life! I met new friends, I got engaged in German culture, I got to experience their education system and I enjoyed every second of it! "


Semih Altaş
2013-2014 Spring, Erasmus
Poznan University of Technology, Poland
"Erasmus is definitely a period that needs to be experienced in a lifetime. I feel lucky to have acquired this opportunity due to the experiences gained and faced realties. If you would like to meet with new cultures and friends you should attend to this program."



Mine Özataş
2013-2014 Spring, Erasmus
Carlos III de Madrid, Spain
"It has been a month since the Erasmus term is over and I am still in touch with friends who are planning to come to Istanbul and with those whom we spent our study abroad period together. To keep our exchange term memories alive… If I had the courage to delay my graduation, I would definitely reconsider attending to the Erasmus exchange again. I experienced a lot of difficulties and still can say "good that I went"."

International Cooperation & Exchange Programs